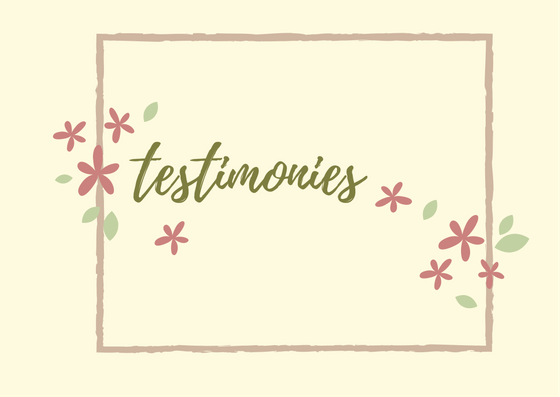 We've seen God heal brain cancer and other forms of cancer. As we speak of his goodness and what he has done we see Him do more and more.
One of us needed to move into a new building as her lease was up and the home was up for sale. On the last day of her lease she found a location, she got approved and she moved into the new location on that very same day.
Recently one of us was due for a procedure. She showed up on the day of the surgery and there was no need for a surgery; because the doctors could no longer find the growth–she was giving a clean bill of health.
Revelation 12:11 (KJV) states
11 And they overcame him by the blood of the Lamb, and by the word of their testimony; and they loved not their lives unto the death.
Testimonies are a weapon of victory. When we have a revelation or understanding of a testimony we hear or read in the Bible, about the faithfulness of God; then we are positioned to receive what we have a revelation on.
In Acts 10:34 Peter said:
Then Peter replied, "I see very clearly that God shows no favoritism.
This is truth therefore if God can heal one in the Bible he can heal all.
The Word of God tells us he is no respecter of persons. Therefore if he says he heals and we see him heal one we can be sure it is his will to heal us too. When we see Him provide for one we can be sure he will provide for us as well.
WHY?
The Holy Spirit backs every Word of God. God's word is truth. His word does not return unto him void
Isaiah 55:11 states
so is my word that goes out from my mouth: It will not return to me empty, but will accomplish what I desire and achieve the purpose for which I sent it.
The Word of God we read in the Bible will accomplish in our lives all that God sent it to do…in Jesus name!
To God be the glory! He healed knees, He healed migraines, He provided jobs, He restored families, …as you trust in Him He will fill your mouth with testimonies in Jesus name!
Let's step into each day with joy and expectation and we will draw out every blessing and favor God has in store for us in Jesus name